Jayalalitha's Interview by Karan Thapar - BBC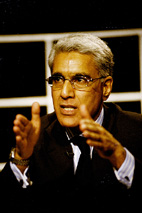 Well, So much has been said about how a minister of a state could exercise such poor judgement and diplomacy to the press following the
interview
We must remember GIGO(GarbageInGarbageOut). The questions that
Karan Thapar
had were ridiculous and stupid to begin with. Besides, as an anchor, the guy lacked the ability to take control of the interview. Jaya is absolutely right in her claims that his questions started with 'The Press' and 'The Media'. Who cares what the Press says? As an interviewer has he done his own ground-work and analyses? To conduct an interview diplomatically, the anchor has to be good to begin with. Given the nature and the pace of his questions, any self-respecting diplomat on TV would have been atleast as defensive as Jaya. And he tops it all with his leading questions. Come on Mr.Thapar, please get back to school or atleast for a brief sojourn to a Mass Communications program. The only credit to Mr.Thapar is the way he made Jaya defeat herself on the issues of Sonia and Karunanidhi. But even that, is her own undoing, not so much his adroitness.
BBC has to take a HardLook first before their next
HardTalk
show as to who hosts it and how it is done.
Having said that, the greatest surprise is how Tamil Nadu's economy has still not gone to the dogs, with such leaders at the fore who are incompetent beyond doubt. It is a shame to see a CM say things like 'You are reading from the notes'. She does not have the maturity or poise to continue her line of thought without another diatribe.
I wish movies like Ayudha Ezhuthu and Ramana get translated to reality. And I wish a higher percentage of the educated electorate turns up to vote in TamilNadu and I wish Karunanidhi and Jayalalitha be sent on an exile to say Papua New Guinea and put in one room under house arrest.