Fun Time : Jerk Series #1
Theme : With increasing use of technology and the eminence of a litigative society, people that we come across in all walks of life are always more intent on securing themselves rather than focusing on what is to be said. The current age has made most people cover their rear ends with multiple layers before taking a stand.

Everything has a disclaimer and sentences that start with 'Do not quote me on this, but..' or 'I am not too sure if I am right, but..' are the order of the day. That has affected many people like me to a great extent, often struggling to obtain direct answers to even simple questions from people at work or otherwise. Worst of all, some people think that not-being-to-the-point is actually diplomatic! That is the theme of this comic series. Enjoy and you'll be surprised to see the prevalence of such verbose,concentric and eccentric expositions in your day to day lives. My God Scott Adams fittingly came up with the concept of In(Duh)viduals.
Intro to characters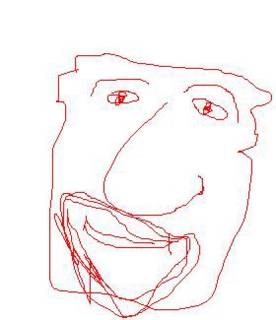 Jerk
- The bearded stellar and computer geeeeek with an external
configuration of a pre-historic gecko amidst pine trees
IApologizeForTheInterruptionBert
- Even if you are talking to your
CEO, this Bert will wait at your office like an expectant father to
recursively talk for atleast 10 minutes. All this to ask a simple question like
'Is your computer running? Sir'
ThatsWhatIThotBert
- Even though this character may have it ALL
wrong, will claim this in an inimitable way
HaHaHaHaBert
- The one with the most charming laugh
MightVeryWellBeBert
- The 'cover-my-*****' Bert
WeAreToldBert
- The Disclaimer Bert....disclaims to the extend that
if you ask the name - might very well give a 'short' answer as "Most probably, my name is John Doe, is what I am told, again, just for your information, my name is continuously changing TOO fast in time, I'd be able to give a better update on my actual name in another two business days (Talking about timeframes, I apologize if I sounded like a Manager....
HaHaHaHaBert
takes over). If you have any
questions or concerns regarding this information please contact me at
this Bert Address."
AtThisPointInTimeBert
- The Bert that JUST DOES NOT believe in
the Past or the Future.
IAppreciateItBert
- An appreciation freak by the strictest meaning of the word is an understatement. This Bert will thank the carpet for taking
your weight.
ThankYouSirBert
- Will thank you for thanking him.
HelloSirBert
will figure in the first scene of every Edwartoon...and
ThankYouSirBert
/
ThankYouMa'mBert
will be in the last scene.